I left work a bit earlier than usual one day to for a night activation, my first since starting with SOTA.  Temescal Peak is kinda close to my office so I wouldn't need to suffer through SoCal traffic so much. I pulled up to an area which looked okay to leave the car, collected my equipment and started to hike up a paved drainage system, at which point I was welcomed by a sign to the Topanga State Park. A cool coastal breeze was welcome as I hiked along. I kept thinking how it would have been a nice on a mountain bike. At the top, I wasted no time to get the antenna setup. The summit is kinda small, so not much room for an EFHW, but that's what I had so I made it work. Worked 40m, 30m and 20m CW in addition to 2m FM. Made 4 DX contacts on 20M in a row. Maybe I should do night activations more often? Hiking down, by flashlight started to die and I forgot spare cells. Luckily, the moon was bright which was enough to see where I was going. Next time I'm doing this one on a mountain bike.
https://sotl.as/summits/W6/CT-218
I seem to have lost the .gpx track, which would normally go here.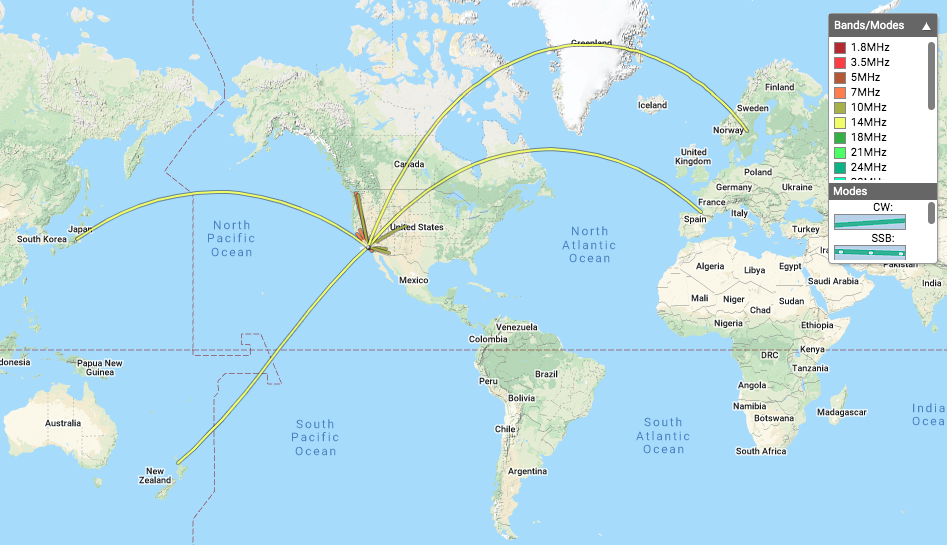 Date:11/05/2022 | Summit:W6/CT-218 (Temescal Peak)
| Time | Callsign | Band | Mode | Notes |
| --- | --- | --- | --- | --- |
| 03:23 | NT6E | 7MHz | CW | S55N R599 |
| 03:25 | KJ7LLS | 7MHz | CW | S52N R55N |
| 03:26 | AC2WU | 7MHz | CW | S52N R42N |
| 03:27 | AI6XG | 7MHz | CW | S56N R33N |
| 03:28 | W6LOR | 7MHz | CW | S599 R57N |
| 03:29 | K6EL | 7MHz | CW | S42N R55N |
| 03:31 | W9SSN | 7MHz | CW | S599 R55N |
| 03:38 | WE0Q | 10MHz | CW | S52N R57N |
| 03:41 | KI7QEK | 10MHz | CW | S52N R55N |
| 03:43 | N0DET | 10MHz | CW | S42N R42N |
| 03:44 | WW7D | 10MHz | CW | S599 R42N |
| 03:45 | AF7M | 10MHz | CW | S53N R55N |
| 03:58 | KM6UHU | 144MHz | FM | S59+ R59 |
| 04:23 | KG6MZS | 144MHz | FM | S59+ R59 |
| 04:29 | KI6SLA | 144MHz | FM | S59 R59 |
| 04:37 | F4WBN | 14MHz | CW | S559 R599 |
| 04:39 | ZL1TM | 14MHz | CW | S42N R52N |
| 04:41 | SA4BLM | 14MHz | CW | S33N R33N |
| 04:45 | JH1MXV | 14MHz | CW | S42N R31N |
| 04:46 | NT6E | 14MHz | CW | S599 R55N |
| 04:59 | WA6WV | 144MHz | FM | S59+ R59 |