I know this sounds weird, but I had a bit of a "forced" vacation from work. You see, I'm a bit of a workaholic.  I enjoy what I do and it never really feels like a real job; there are some exceptions to that statement but nothing can be perfect, right?  Fine…. I guess I'll go on a "vacation" then.  Anyways, I love to wander around and what better way to wander around than on a motorcycle?
I didn't really have a plan, in fact I changed the oil on the bike the night before I left, in the dark using the flashlight app on my iPhone.  I didn't really pack much except for a tent, sleeping bag, sleeping mat, cooking kit, and an extra t-shirt plus some jeans.  I haven't done laundry in weeks so I didn't bring extra socks.  I'll pick those up when I need them later on down the road.
Total distance:
497.57 mi
Max elevation:
9924 ft
Total climbing:
69543 ft
Total time:
05:10:35
Download file:
november_tril_2014.gpx
I took off from Los Angeles on Saturday morning.  It was dark and overcast, which is a bit unusual for Southern California.  Is it going to rain?  I hope so, only because the state is having a serious drought.  We need it!  I decided to head to the Salton Sea, where my friend celebrates his birthday every year.  The plan is to camp over night and figure out what I'm going to do next later.  I ended up getting a bit wet on the way, but there wasn't enough rain to even make the road wet.  This is good for me as riding through the rain sucks in my opinion.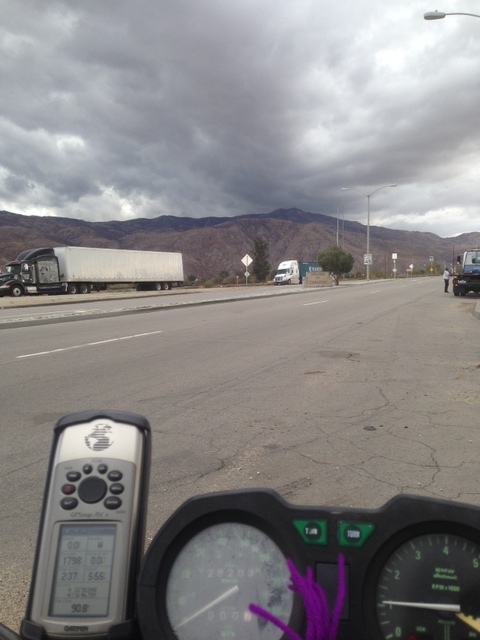 Ahh!! Made it to Hitch Hikers Camp near Slab City. I love this place!  Some say it's the "last free place" in America. There is a hot spring nearby and you can do whatever you want and nobody will bother you.  I got to camp, found my friends and drank excessive amounts of beer until it got too cold and windy.  All the fire wood was burned later in the evening so I attempted to make a visit to the hot springs to warm up.  There were some very shady people who pulled up in a van just as I was walking up. They didn't come out to introduce themselves, so I left creeped out and without a moonlight soak.  Anyone who knows of this area also knows of the types it attracts.  In addition to snowbirds, artists and anti-socials, there are also fugitives and people who do too many of the bad kind of drugs.  I'm pretty sure the creepy guys in the van were smoking meth or something.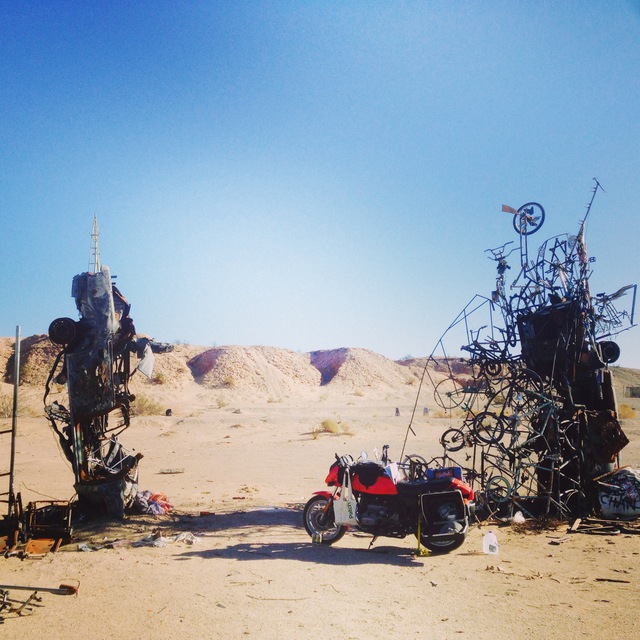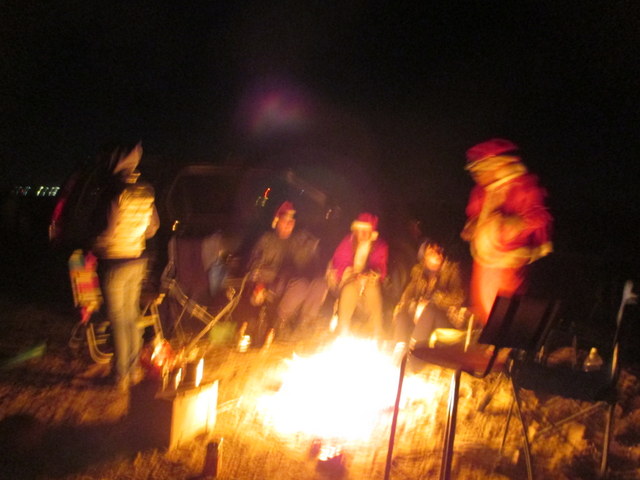 The next morning we made breakfast and discovered that there was a surplus of beer to be drunk before ending the day.  It's against the rules to leave a camping trip with beer in the cooler so we had to kill it off.  In doing so, out came the Red Rider BB gun for some target practice.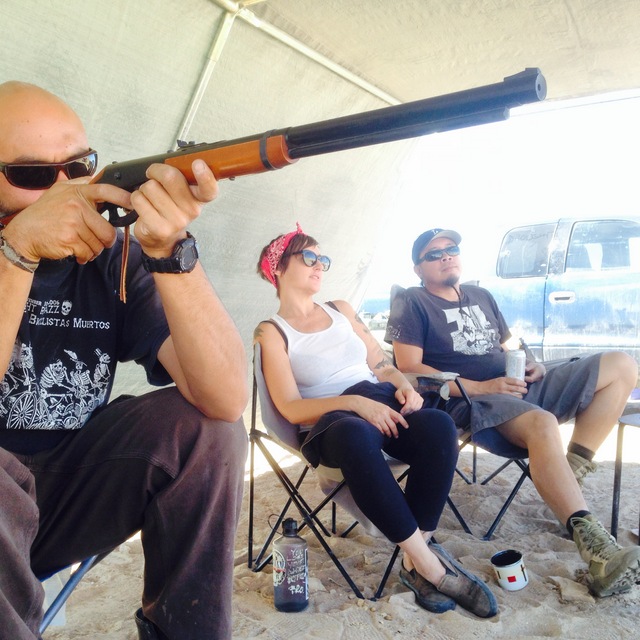 And a little later the explosives came out.  These are "seal controls".  Commercial fishermen use these to scare away sea lions from their docks, boats, nets.  We use them to blow stuff up.  I didn't get photos of everything, but we blew up a pumpkin, a potato, some fruit and a head of lettuce.  I know we experimented with other things but they are escaping my memory at the moment.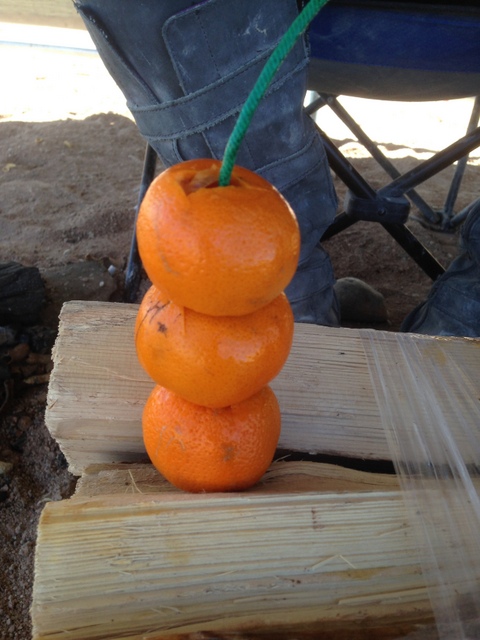 Salad anyone?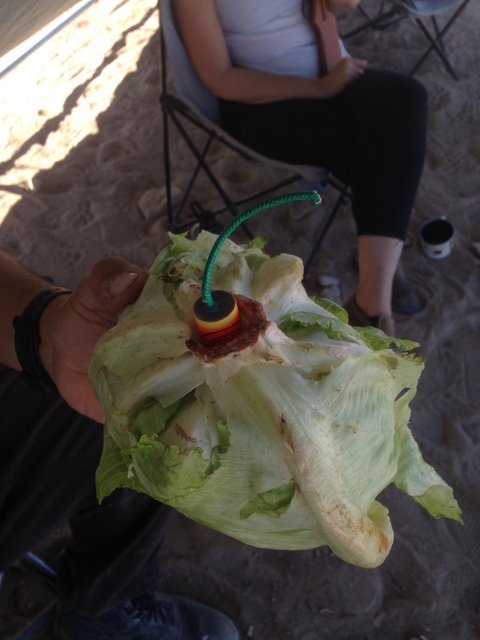 Okay, enough of these shenanigans.  I need to get on the road before it gets dark.  I decided to head to Laughlin, NV.  I've never been before and it seemed like a good place to stop over and get a cheap room.  It's also a place frequently visited by a good friend of mine, so I wanted to check it out.  My cheap room ended up being $21, which was worth it because finding a nice place to camp in the dark, on foreign land isn't much fun.  Oh, it's cold and the time just changed.  My GPS says sundown is at 4:40PM, so I lost an hour.  :/   Around sunset, I stopped at the Glamis Dunes for a short break.  Watching all the folks having fun on their dirt bikes makes me wish I had a duel sport or something.  My little BMW with street tires was having problems in the parking lot sand drifts.  Maybe one day I'll get something with knobbies…………..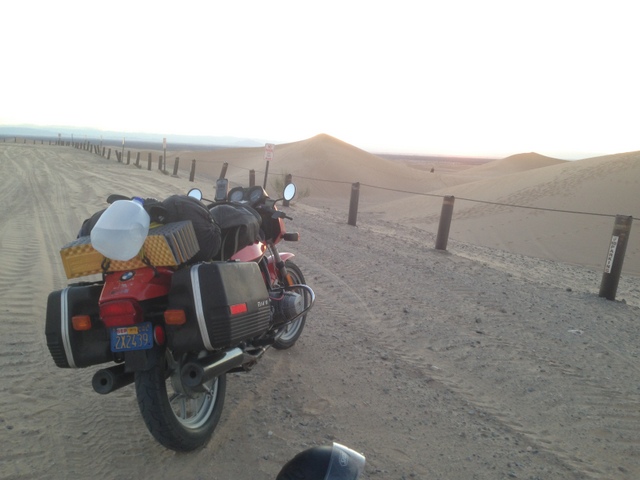 Okay, it's officially pitch black and I'm freezing.  Heated grips would be nice.  This is the part where not planing to bring things like extra layers bites you in the ass.  I'm wearing everything I brought with me.  At least I can put my gloves on the engine to warm them up, then put the gloves on my hands to de-frost my fingers.  When I get to Laughlin, I will have a nice, hot, steamy shower.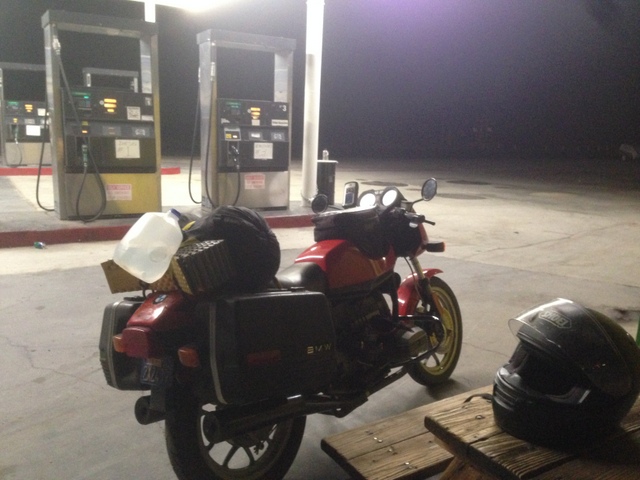 Oh Laughlin, your cheep rooms will bring me back one day.  I didn't really do anything here except for sleep and eat so another trip in the future is warranted!  I don't gamble, so the jokes is on you, casino owner!  I decided I needed to get up early to make use of the available daylight.  I got a basic breakfast with coffee down in the casino.  It wasn't too expensive either!  Time to hit the road.  I don't know where I'm going but I know I gata go.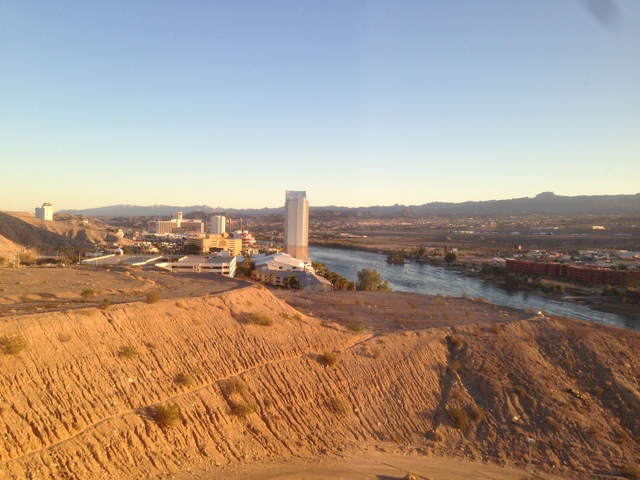 Where am I going anyways?  I guess I should go north to Vegas, which isn't very far away, but first I stopped at Davis Dam just outside Laughlin.  I'm quite fascinated with dams and admire all the engineering that goes into executing such a project.  The Davis Dam has quite a bit of competition for visitors because of the Hoover Dam up north.  As such, there wasn't much to see here so I continued on my way north.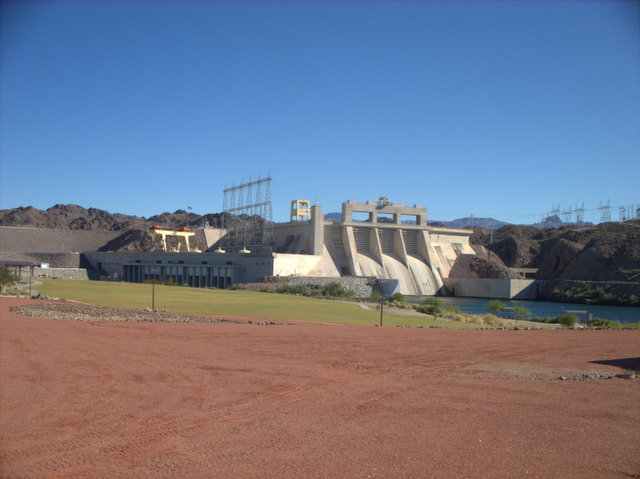 The head wind at this point was insane.  While it's been very windy the whole trip, but the wind today was on another level!  I felt like my head was against a wall and I was using all my weight to try and break it down.  I'm probably going to have a sore neck!  It also felt like someone was pulling the road out from underneath the bike sideways.  I had to run the bike with the throttle wide open.  This bike has a weird issue where the motor cuts out at high speed.  I think my float levels are off maybe?  I had to take a break on the side of the highway to warm up, figure out where I'm going and give my neck a break.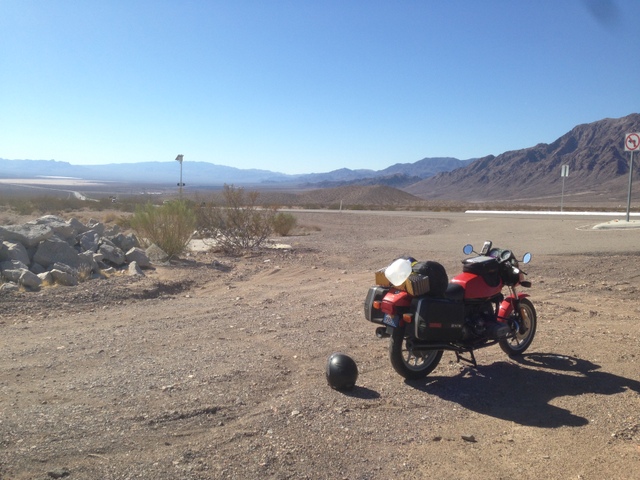 I've already spent a bunch of time in Vegas, and while I like it there, I don't feel like going this time.  Looks like Utah is right there!  I'm going to Zion National Park!  It's suposta be great!  As I rode through Vegas and continued up north, the temperature started to drop.  I pulled my tablet out and checked the weather.  There is a low of 34f.  No way I'm camping.  I'll die.  I can imagine the poor person who would find my preserved dead frozen body.  I don't want to do that to anyone, so I'll just get a cheap room near the National Park and check it out in the morning.  That night the temperature got down to 28F according to the LED sign at the bank across the street from my room at the hotel.  I need to gear up if it's going to be this cold, so I found a store and bought some flannel to wear under my leathers, and some socks.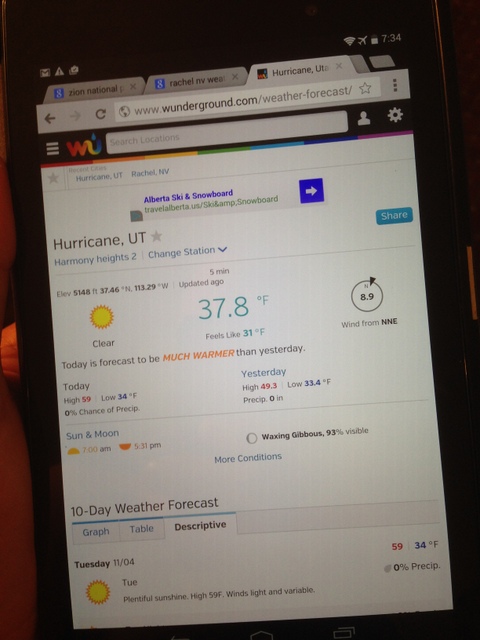 The next morning there was frost all over the bike.  This can't be good.  I gear up, put the key in the ignition and hit the starter expecting the machine to fire to life.  The motor barely moves!  I imagine the oil in there has the consistency of molasses.  The battery on this bike has been terrible for the past couple of months as well.  I'm wondering if the cold snap killed it.  I pushed the bike up a short driveway what looked like it has some kind of incline to it.  A couple of tries pushing the bike to bump start it, and it fires right up!  Whewww!!!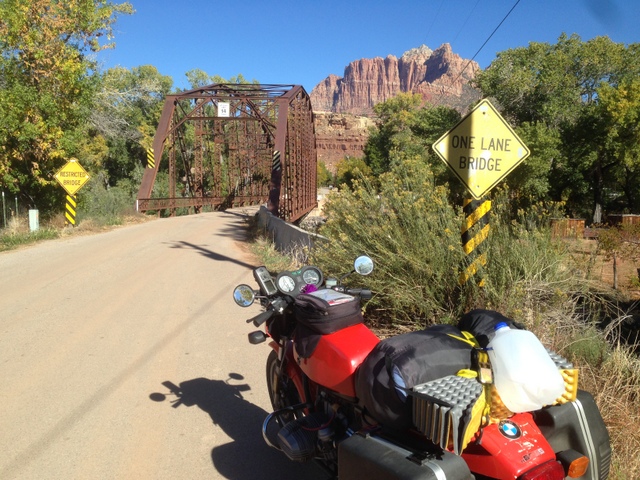 Utah is gorgeous!  I've only been to Salt Lake City before, but that was for business and I didn't really get an opportunity to get out of the metro area.  I saw this little rusty one way bridge over the Snake River, so I had to get a photo.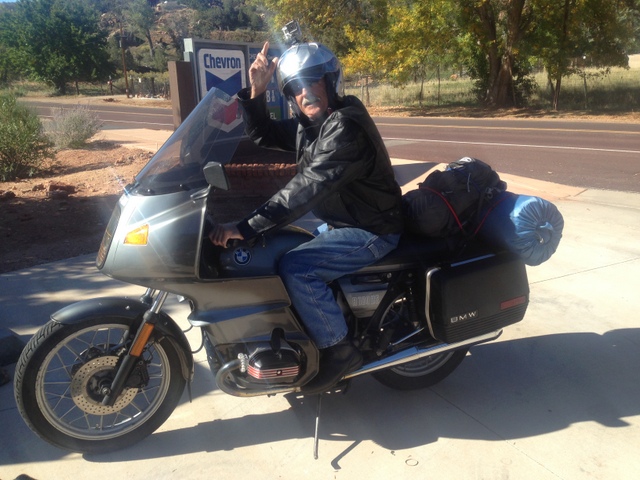 I forget this guys name, so I'll call him Jim.  I saw him the day before flying by me on the freeway and I was like, "cool a guy on an airhead!"  About 10 miles ahead there was some traffic and Jim's lane was stopped.  I chose the other lane which was clear.  I thought that was going to be the last I saw of Jim, but the next day he passed me while I was at a gas station right outside Zion.  I thought to myself, "That's the airhead guy again!"  He turned around and introduced himself.  Jim lives in Texas and is just out traveling around the country.  He wanted an R100 RS since they were new, so 30 years later he got one!  Since we were both going the same way we decided to ride together.  Why not?
The park was surprising small.  I thought it was huge for some reason, maybe because everyone talks about it like it's the best place on the planet?  Luckily for Jim and I, the park wasn't completely packed with tourists.  I understand that on the weekends, the park has busses for everyone to keep car congestion down because the demand is so high.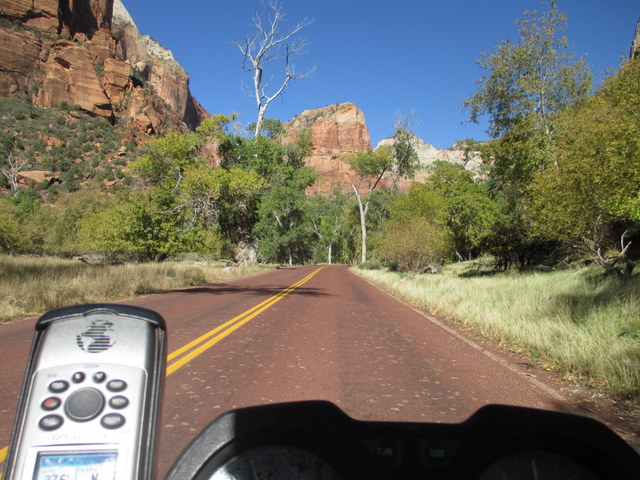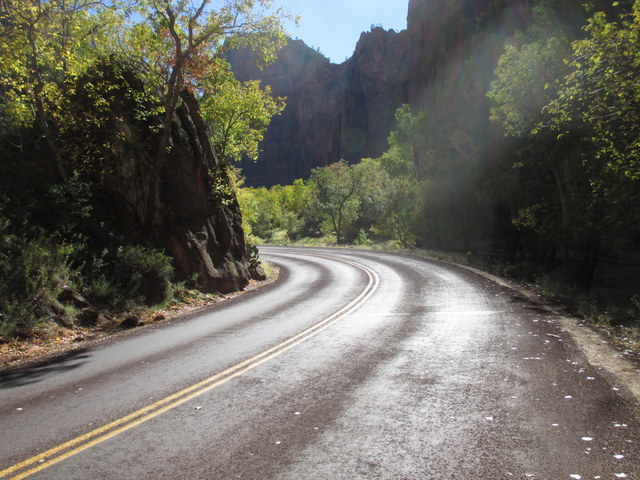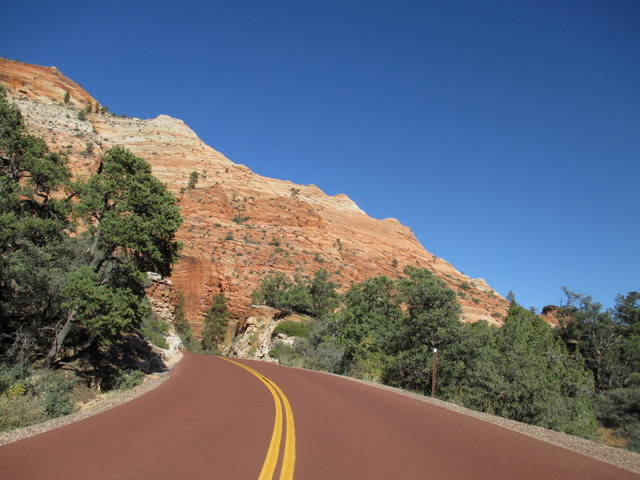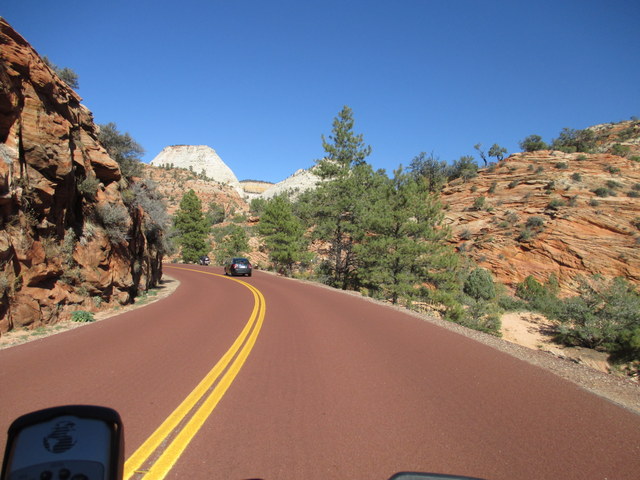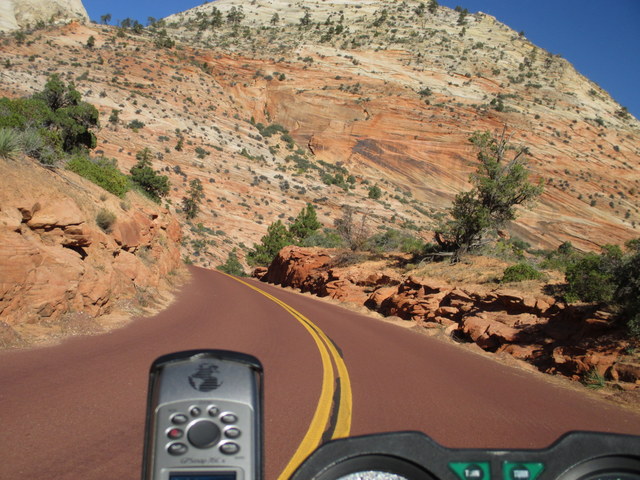 The east end of the park turns into grassland pretty quickly.  Jim and I stopped at a little gas station for some coffee and to say goodbye.  I got a sandwich and decided to do another run through the park for a picnic and because I forgot to take photos. (see photos above)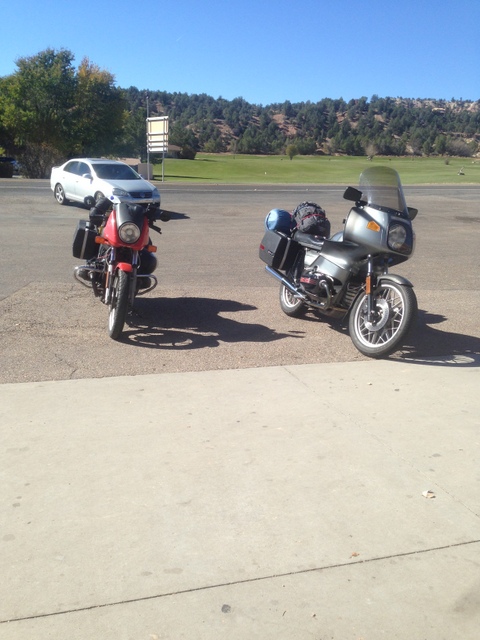 After another run through the park, I figure it would be a good idea to find a place to sleep.  There is still daylight left which means there is more time to ride!  Let's head north, and turn back west.  I booked a room at a place in Rachel, NV so I need to keep some kind of schedule at this point.  Looking at a map, I found a nice twisty mountain road.  This one looks nice.  There are wild turkeys on the side of the road, green trees, fresh air, what could go wrong?  Oh, it's starting to get cold.  Oh look, there is snow on the ground…..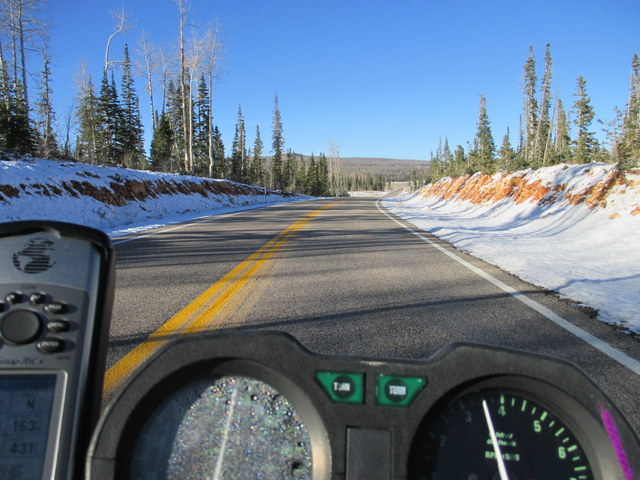 Well, I might as well go walk around in the snow and explore a bit.  The fleece I'm wearing under my leathers is working really well.  Still wish I had heated grips tho!  There is a free camping site down this snow covered dirt road that I wanted to check out.  I felt like I was going to drop the bike on the ice so I turned around while almost getting stuck.  Again, I probably need a different bike, or at least different tires if I'm going to try and travel off the pavement.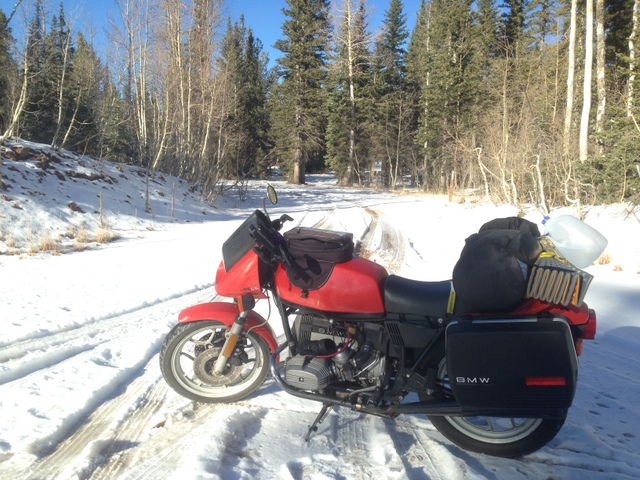 The elevation was around 10,000 feet.  I expected the bike to run poorly because of the altitude, but it did pretty good!  At this point my feet are starting to freeze to the foot pegs.  I've never had that happen before!  Burrrrrr!!!!!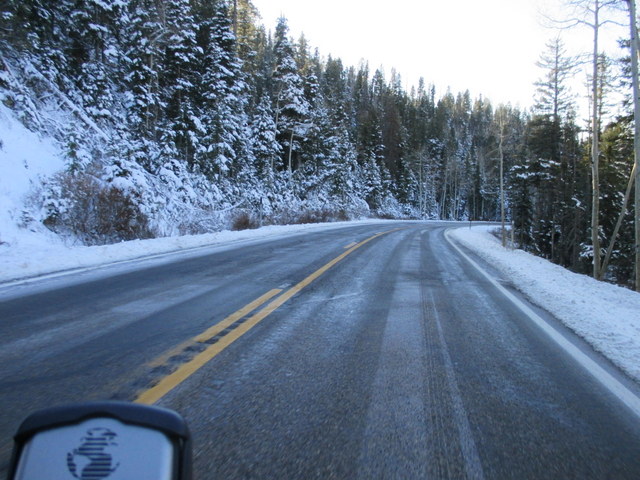 I booked a cheap hotel next to a freeway because it was freezing and got dinner at the Denny's next door.  Makes for a great story right?  Remember how I wanted to camp every night?  That hasn't happened yet.  The next morning, the bike was covered in ice again.  I knew it wasn't going to start, and I was right.  I ended up trying to get this machine to run for an hour and a half and I was getting very frustrated.  I defiantly didn't want to stay in this town any more than I had to!  The thing that bugged me was the several people watching me push the bike up the hill, run with it, jump on pop the clutch and try to get her to fire over and over.  I was their morning amusement.  I ended up unloading the whole bike to make it lighter because I was getting noodle arms and legs.  It finally started and I high tailed it out of that town.  There was quite a bit of elevation drop coming to the border back into Nevada.  I rode for quite a bit and didn't want to stop.  I needed gas tho, and unfortunately this place didn't have any.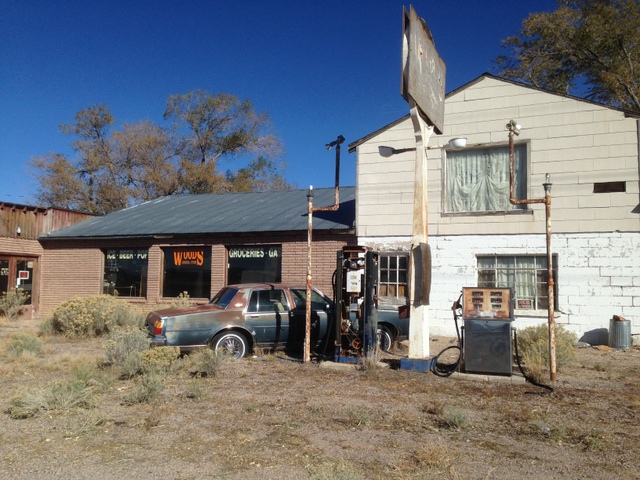 I rode around and finally found a gas station.  I walked in and experienced some kind of culture shock.  I think they did too when they saw an LA punk like me walk in, because everyone stopped talking and stared at me as I walked through the door.  I didn't know placed like this still existed in America!  The cashier knew everyone in the store by first name and they used paper notebooks to keep track of their tabs. It was like a scene from a movie.  This place stocked the normal items you would find in and connivence store with the addition of tractor and truck parts.  Pretty cool.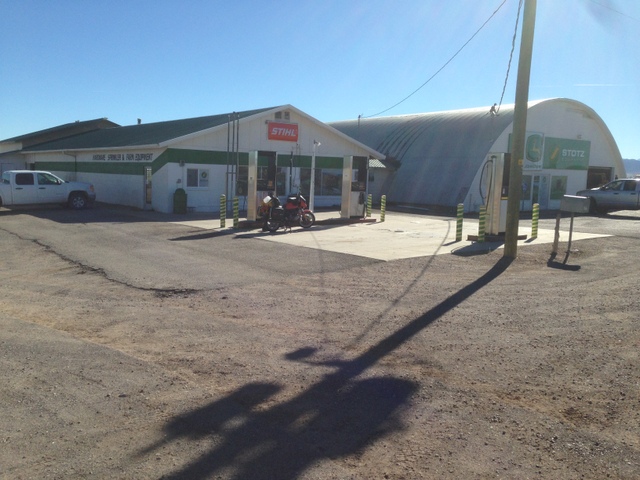 One of the things I wanted to do on this trip was soak in as many natural hot springs as I could.  While getting gas in Nevada, there was a convenient hot spring across the street, just over a ridge.  A short dirt road  lead to the entrance, and It's all locked up.  Apparently there are two types of endangered fish that live in this spring.  In addition, some of the "improvements" that were made long ago are starting to fail.  The spring is on BLM land, so fixing it requires multiple agencies to work together.  The result was to just close the spring until someone figures out what to do with it.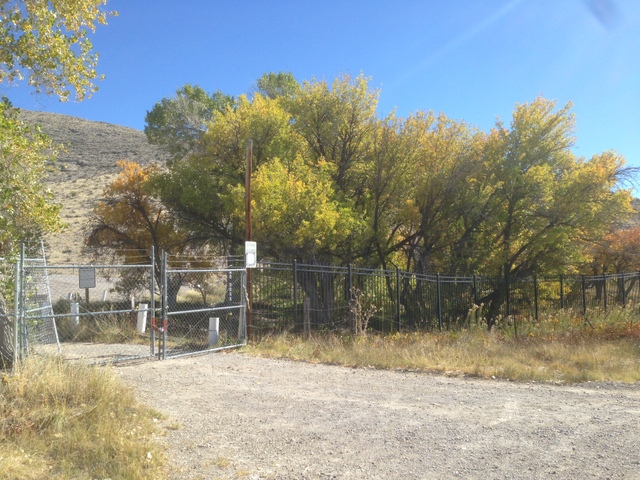 Lunchtime!  I expected this part of Nevada to be completely barren and isolated.  Turns out there is a small community 10 miles or so up the road.  I found this place Carlo's and ordered a vegetarian burrito. The waitress was confused at the fact that I didn't want meat, and even returned to my table to double check.  I gave they guy in the back complete creative control on his interpretation of a veggie burrito and they nailed it.  Thanks Carlo's!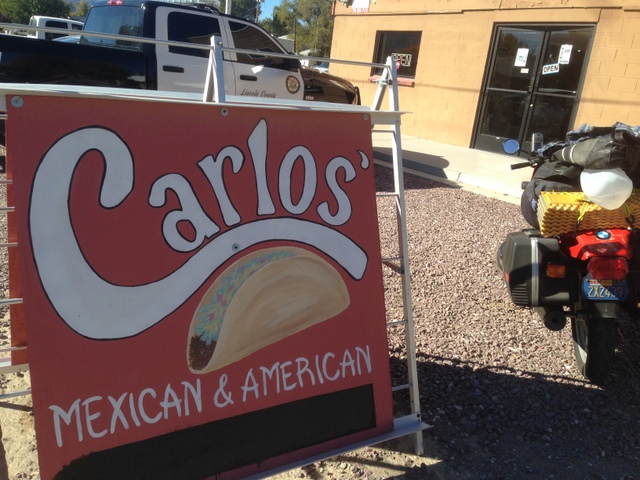 One more stop before heading to Rachel, NV.  Across from this Extraterrestrial Highway sign is a spring!  I stopped and looked around and decided that it wasn't something I wanted to get naked and jump into.  The water looked kinda rancid.  No thanks.  Back in the black and white days, this was used as some kind of watering hole for horses and cowboys.  There is probably more history than that but I didn't take the time to learn it.  Time to go see if I can find AILENS!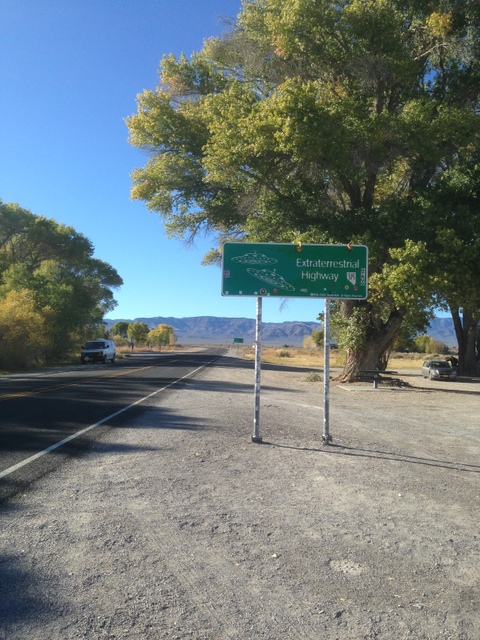 There is an alien!  Wait, that's fake.  This is the UFO research center, out in the middle of nowhere, which is probably more of a tourist trap than anything.  I'm not really an alien fanatic so I didn't stop in.  I do believe we are not alone in the universe, but that doesn't have much to do with motorcycling.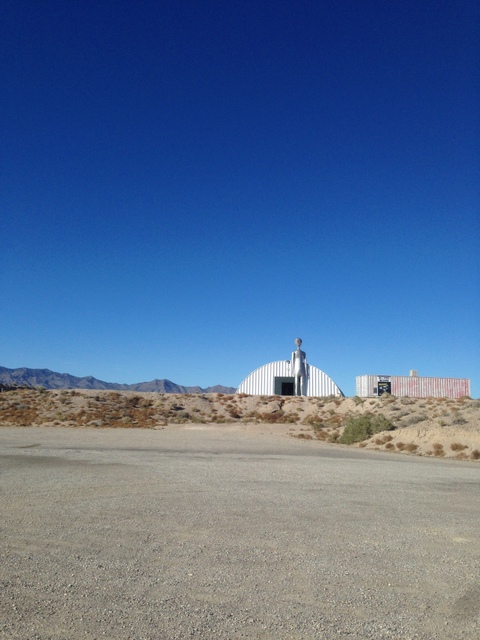 There were several dead cows along the Extraterrestrial Highway.  Were they mutilated by aliens and left for dead?  No, probably not.  This is an open range and folks driving too fast in the middle of the night probably hit them with their cars.  I know what a deer can do to a car, I can't imagine what a full size cow would do.  It would be like running into a wall I'm sure.  Poor cow.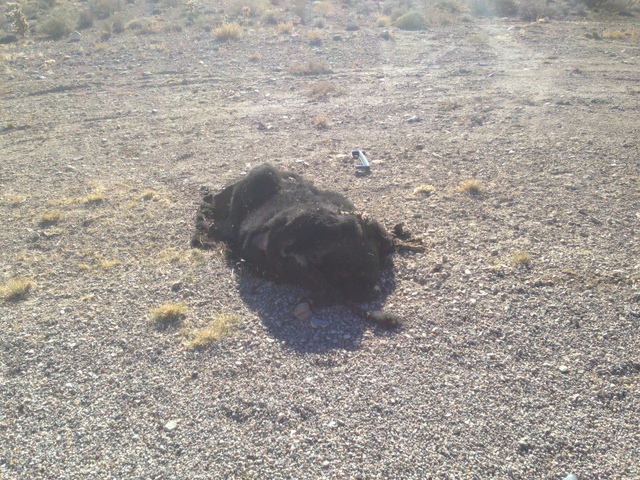 Off the highway there are tons of old dirt roads, which I can only guess lead to old mining claims.  I ended up finding one that was paved at some point and started to follow it.  To the left there looks to be a pile of asphalt, perhaps to repair the road.  This went on for miles and miles.  I turned around because the soft spots in the road were very soft.  If I were to drop the bike here and break my ankle or something, nobody would ever find me.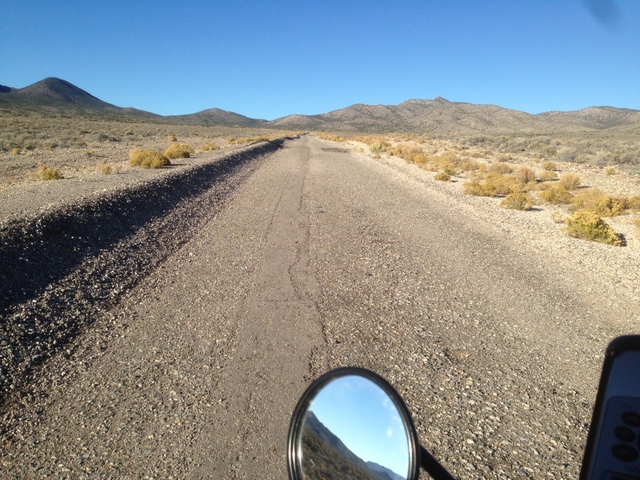 Just outside Rachel is an old mining settlement.  I'm really fascinated with mines, and usually do the worst thing possible and go inside them when I have an opportunity.  This mine shaft was sealed up pretty good, but it looked like I could still get in if I slid on my belly.  I was in full motorcycle leathers at the time so I passed on getting completely filthy and possibly dying from lack oxygen or tunnel collapse.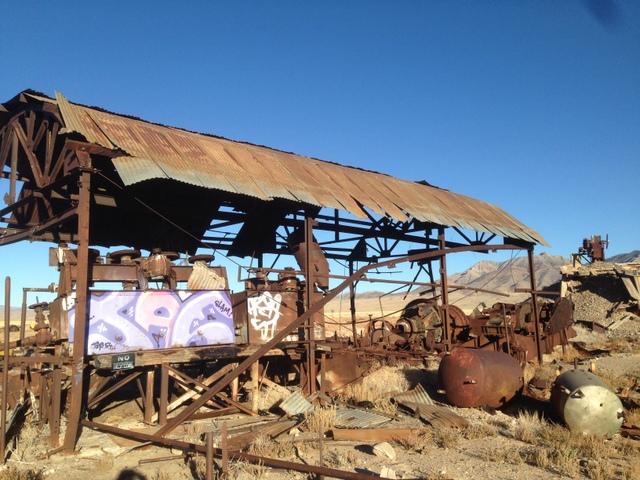 This isn't the mine shaft.  It was probably a storage room for supplies, kept under the dirt to try and maintain some cool space from the harsh external elements.  Inside, someone dragged some old couches in and possibly lived in it for a short time.  The condition of the wood was still pretty good!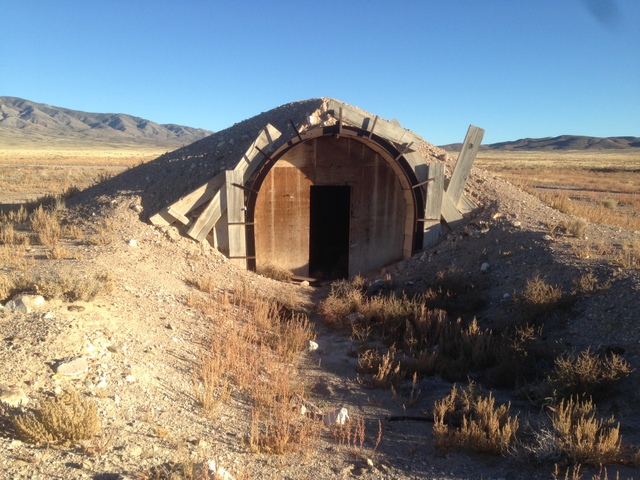 An old mining truck, parked and abandoned a long time ago near the mine shaft.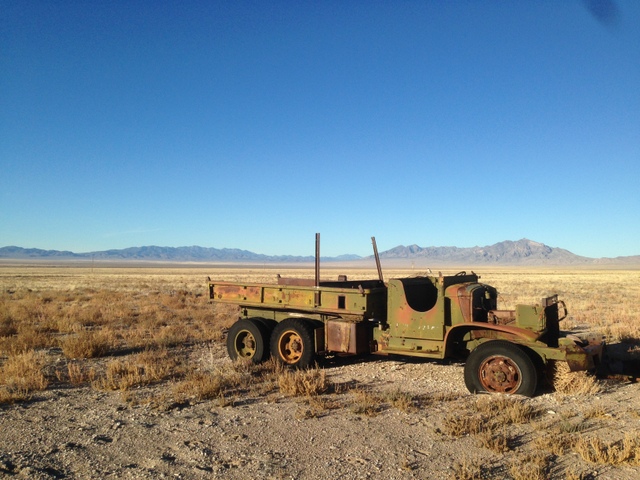 An old airhead, parked 20 minutes ago near the mine shaft.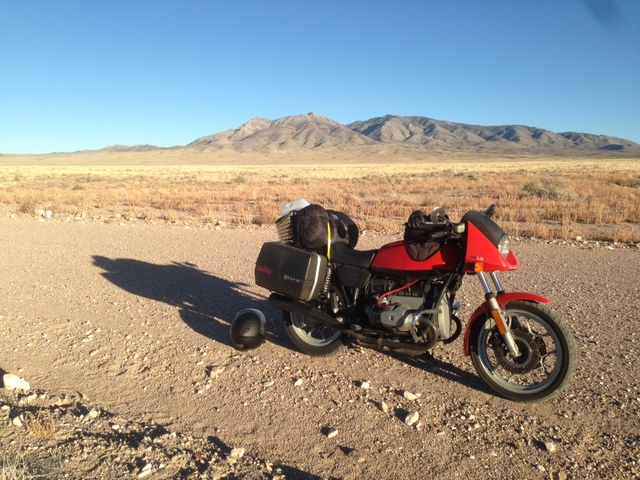 UFO tow truck!  I'm sure that anyone that's traveled down the Extraterrestrial Highway  has seen this.  It's parked in front of the Little A'le'Inn (earthlings welcome), a tiny hotel, bar and restaurant where I stayed in the middle of nowhere, A.K.A. Rachel, NV.  I had planed to stop here for the night a while back because I've been interested in this part of Nevada for a while.  While I was expecting the bar to be full of UFO experts and Area 51 conspiracy theorists, I found a few boon-dockers in a room full of cowboys (actual cowboys on horses) who were letting their cattle graze on the BLM land nearby instead.  I drank quite a few vodka sodas at the bar, people watched, and enjoyed their finest grilled cheese with fries dinner.  The original plan was to get drunk and wander around the desert but the cold weather was prohibitive.  The best course of action was to go to sleep, wake up in the morning and start a long journey back to Los Angeles, about 500 miles.  I'm tired of sleeping in hotels; this wasn't part of the non-plan.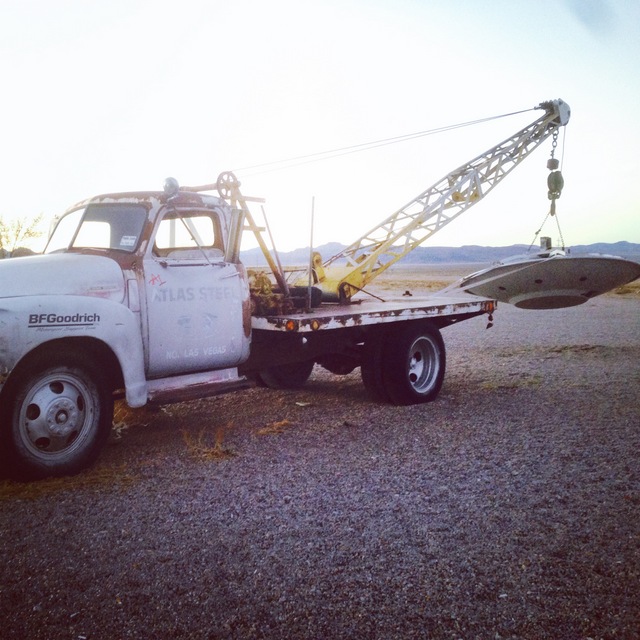 It got really, really cold that night.  As such, I woke up in the morning to find frost covering the bike again.  Given the history of the past few days, this thing defiantly isn't going to start right now.  No problem.  Looking at the road there is an obvious decline.  I'll just push the bike over to the road and bump start it like the past two days.  Just incase I'm lucky, let's try and turn the motor over with the starter…..  "Rummphh!!…… Rumphhh!!" nope.  There is molasses oil the sump.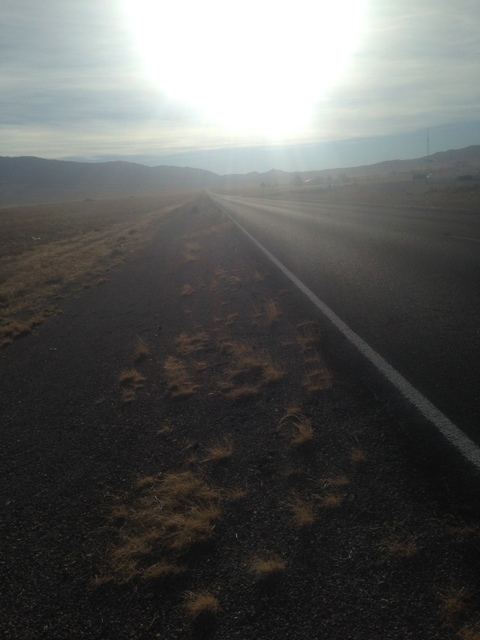 Out on the empty desert road I started to push the bike down the hill.  It felt much heaver than it did before.  Are the breaks binging up from the cold, perhaps from frozen moisture in the lines?  I could barley get the motor to make a compete cycle.  Perhaps if I were to take the luggage off and make it lighter, it will be easier.  Nope.  The machine still feels really heavy to me.  Rightfully frustrated, I walked off the highway into the desert to kick rocks.  When I turned around the road that I thought was going down hill, looked like it was really uphill!  This is some kind of illusion caused by the mountains in the distance?  By this time one of the boon-dockers offered a push for more momentum, but this was fruitless.  It seemed like the other direction was up hill too!  It became clear that the best action was to park the bike in the sun and hopefully the oil would loosen up a bit.  I asked him if he had jumper cables because the bikes battery was weak, and resistantly answered with "I have a jump box, but it's buried deep in the back of my van..  It would take all day to get it out".  "Okay, well, thanks anyways" I said.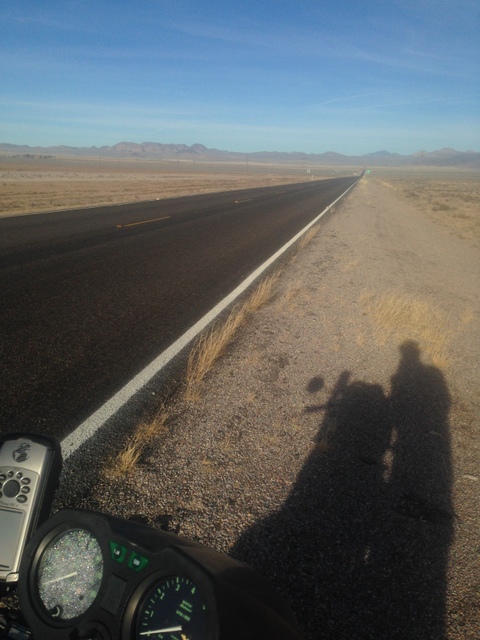 As long as I have to wait for the sun to warm up the engine block, I might as well get some grub.  I ventured back into the bar/ restaurant and ordered a coffee with a shot of Irish Cream and some eggs.  To my surprise, the staff was wondering what was going on with the motorcycle guy on the side of the road.  I told my story about the the faulty battery and the optical illusion road and such.  One of the boon-dockers inside graciously offered a jump start from his RV.  Great!  After breakfast I moved the frozen bike to my new friends RV, which was already set up for me to jump from.  I hooked up the cables and the bike jumped to life instantly.  Maybe it's not the cold weather and thick oil after all, maybe my battery is just totally shot?  Whatever.  It doesn't matter.  I'm going back to Los Angeles right now!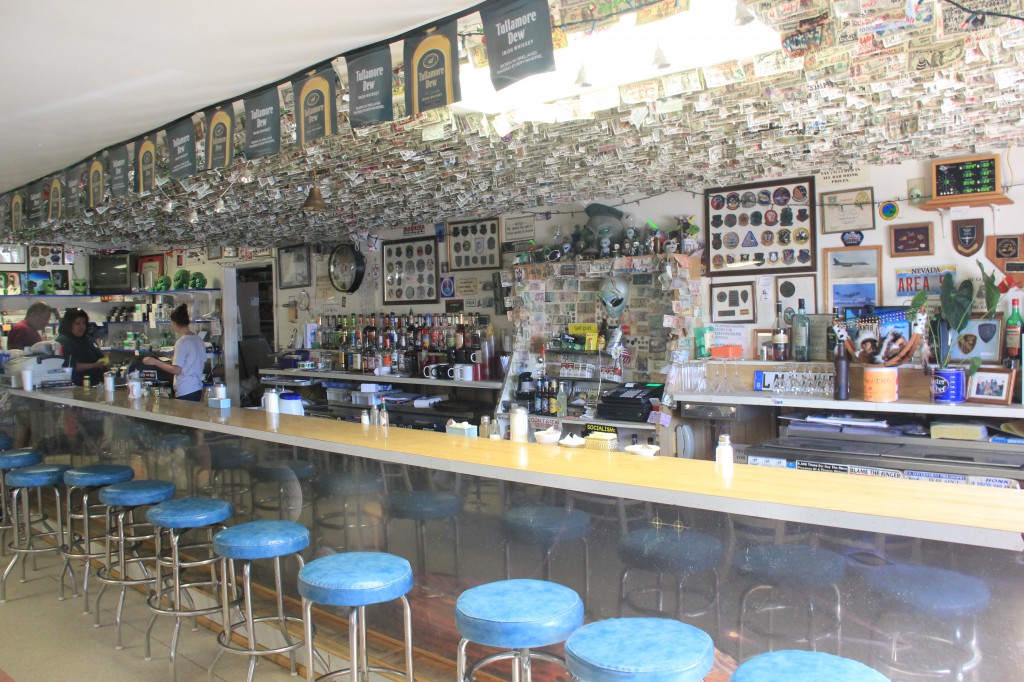 The next 150 miles were long, straight and getting warmer.  I get to an intersection and see what is the remnants of an old town.  One of the buildings says "KEEP OUT" in big read letters.  Well, I'm most deffinatly not keeping out.  I haven't seen a car in two hours.  What are they hiding?  I stopped the bike on the side of the road and jumped over a barbed wire fence, squeezed through a hold in a chain link and found this gorgeous mineral pool!  It's really hot too!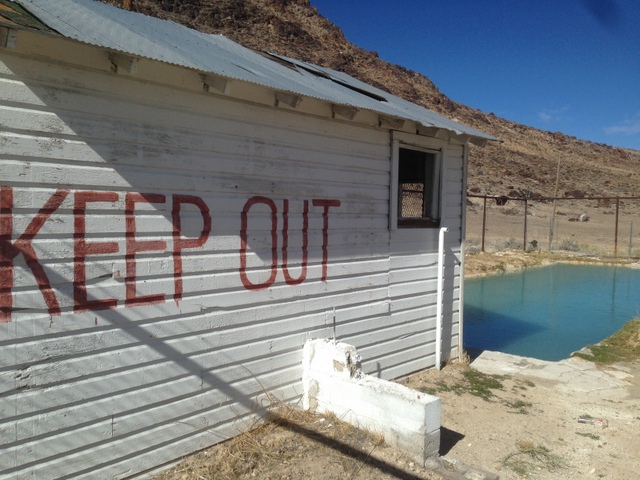 Damnit!  If I wasn't in a rush to get back to LA before it gets dark, I would hang out here for hours, maybe drink some wine!  You can see from the photo below that the spring is actually on top of the hill in the background.  A shallow ditch dug down the hill carries the steaming hot mineral water to this hole in the ground (which looks white because of the minerals).  The deep end of the pool is the run off, which pours out into the desert, making a muddy bog that is occupied by a few cows.  This is one place I have to make a return visit to!  But now I need to get back on the road.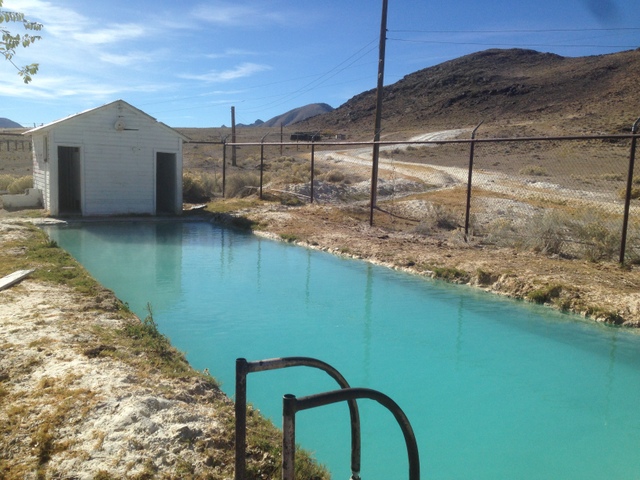 Th next 150 miles were boring.  I made the decision to to through Death Valley instead of riding the super slab, or risk freezing again in the Eastern Sierras.  This is the first time I've been warm in days!  I'm not going back to cold, no way!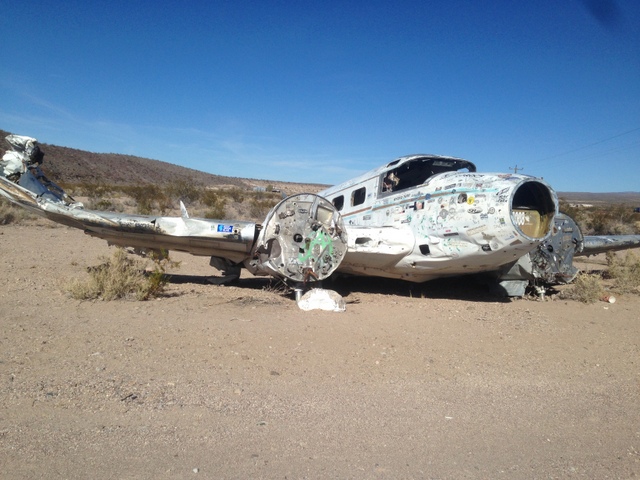 On the way to the entrance to Death Valley, this old air frame greets visitors to the brothel just down the dirt road.  I wonder what the last flight his airplane had.  Where was it going?  Where did it come from?  One thing is for sure, this isn't going anywhere any time soon.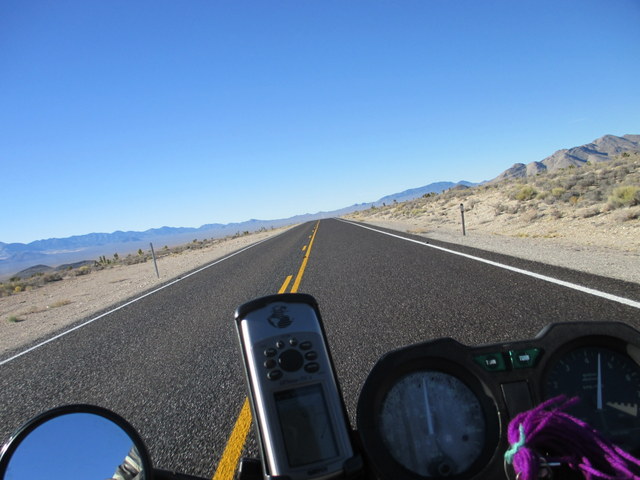 I didn't take any more photos when I was riding through Death Valley, and I made it back to LA in the middle of rush hour traffic.  I'm happy that splitting lanes is legal.  Happy riding!